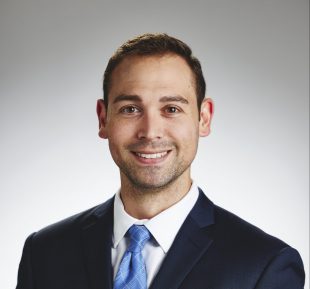 Dr. Aaron Rubinstein is a fellowship trained orthopaedic surgeon specializing in hand, upper extremity, and microvascular surgery.
A native of Princeton Junction, New Jersey, Dr. Rubinstein was active in the community as a volunteer firefighter and Emergency Medical Technician. He attended The Pennsylvania State University where he was awarded multiple academic awards and graduated in the top 0.5% of his class. He subsequently attended Georgetown University School of Medicine where he received his Doctorate of Medicine. While at Georgetown, Dr. Rubinstein became actively invested in clinical research, publishing numerous scientific articles in a variety of peer-reviewed journals. His work has been presented at multiple national as well as international conferences.
After medical school, Dr. Rubinstein returned to New Jersey to complete his residency training in orthopaedic surgery at Rutgers University – New Jersey Medical School. At Rutgers, he received a wide range of orthopaedic training in all of the field's subspecialties. His time spent at University Hospital, New Jersey's busy level 1 trauma and limb replantation center, brought him in contact with a multitude of severe orthopaedic injuries, helping to diversify his skills and surgical techniques. Throughout his training, Dr. Rubinstein has kept a keen interest in medical education and was nominated for a Golden Apple Resident Teaching Award for excellence in medical student teaching.
Dr. Rubinstein went on to complete his fellowship training in hand, upper extremity, and microvascular surgery at Allegheny General Hospital in Pittsburgh, Pennsylvania. During fellowship, he participated in the care of patients with a wide variety of congenital, arthritic, and traumatic injuries of the upper extremity. His training encompassed both taking call at a busy level 1 trauma center and performing high-volume elective procedures in an outpatient surgical practice. Additionally, he spent a month in Philadelphia at Shriners Hospital for Children, caring for infants and children with both birth-related and acquired pathologies of the upper extremity.
Dr. Rubinstein currently resides in northern New Jersey, close to his family and friends. His treatment philosophy consists of a conservative, stepwise, and patient centered approach designed to appropriately address the individual as well as the underlying pathology. He believes in the power of educating his patients and involving them in the decision process. He holds memberships in both the American Society for Surgery of the Hand and AO Trauma North America.
Education
Undergraduate
The Pennsylvania State University; University Park, PA

B/S in Pre-Medicine; Neuroscience Minor
Medical School
Georgetown University School of Medicine; Washington, DC
Internship/Residency
Rutgers University – New Jersey Medical School; Newark, NJ

General Surgery Internship
Orthopaedic Surgery Residency Program
Fellowship
Allegheny General Hospital; Pittsburgh, PA

Hand, Upper Extremity & Microvascular Fellowship
Professional Memberships
American Society for Surgery of the Hand
AOTrauma North America